Display Units
Beautifully-designed, eye-catching UO displays are available for your next tradeshow or convention. The perfect way to create a strong, standalone presence.
Attractive and easy-to-setup, our 10-foot Mirage Pop-Up displayer features seamless, attention-getting UO graphics. Also available are large, lightweight, banner stands — equally easy to put together and featuring exciting graphics and the university's logo in yellow against green fabric.
---
Conference/Tradeshow Pieces
Stand-Up Banners
The large banners are 7'9" tall by 3' wide and the small banners are 4' tall by 2' wide. The banners are easy to use and transport. Can be quickly set up and taken down at almost any location. There are two colors to choose from: white on green and green on yellow.
7' metal Oregon Duck
The 7' metal Oregon Duck is a beauty, of course. Boxed and in two sections for easy set-up. Folks love having their picture with The Duck. This piece would require at least two people to move.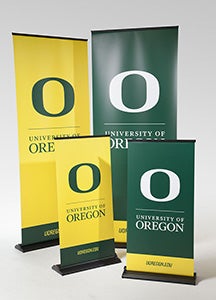 ---
Pressed Cardboard OREGON Letters
OREGON letters are made from pressed cardboard, same as the O. Moving is similar except the letters are individually wrapped with bubble wrap and can be managed with two people. The story boards are optional but do add to your display. The base comes with lighted option, as you can see by the photograph. If you wish to view the OREGON letters set up, please visit the Interpretive Center, main lobby of the Ford Alumni Center. They will be kept on display at that location until needed by another group.
---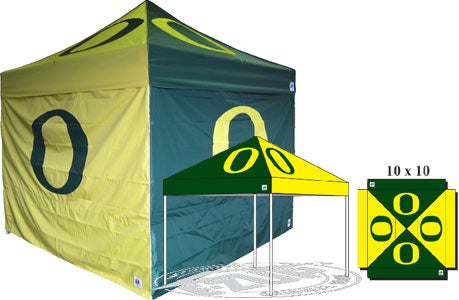 10' x 10' E-Z-up canopy
The 10' x 10' E-Z-up canopy is easy to transport. You may want to use the canopy only or you can add a zip attachment back and sides.
---
Sandwich Board Signs
Sandwich Board Signs are manageable with two people to transport but easily moved by one person when set up. They are imprinted both sides and work well for any event.

---
Once A Duck, Always A Duck Banner
Double-sided banner
Can be used inside/outside
Easy to assemble
Size: 73.5″ H x 30″ W x 42″ D
Weightt: approximately 10 lbs, easy carrying case
---
Spanish Banners
Approximately 10′ x 92″ banners
3 individual banners, magnetized at top for easy assembly.
Comes in 3 cases, can be put up in 5 minutes max., one person assembly.
Be careful when retracting them, so that sides are not creased in storage.