The University of Oregon signature—the Oregon "O" plus the university wordmark—is the cornerstone of the UO identity system. It is the most immediately recognizable signifier of the Oregon brand, and should be used to represent the university in all of its communications.
Using the signature system in a consistent way results in building stronger institutional awareness for the university, helps distinguish us from other peer institutions and promotes the UO in a meaningful and significant manner. It is critical for every user of the signature to use it in accordance with the established brand guidelines.
The University of Oregon strongly discourages all UO colleges, departments, programs, schools, centers, and institutes from creating their own icons or other unit-centric graphics. By competing with the UO signatures and trademarks, these graphics diffuse the power of the UO brand, confuse our public and undermine our messages. University Communications offers branding and identity resources and assistance for the university community.
EXCEPTIONS 
Unique graphics, illustrations, and type treatments are permitted for university events, initiatives, and limited-time communication campaigns, but should not incorporate or modify the university logo or any element of it. Event or campaign graphics should never replace the university signature. With the exception of promotional items where the imprint area is too small, the University of Oregon signature should appear separately. All brand marks must be reviewed and approved by University Communications.
Pre-existing sub brands are rare exceptions to standard logo policy. Exceptions have been grandfathered in for units with a pre-existing marketing effort built around a nonstandard mark, but those logos and marks will, over time, be integrated into the overall UO branding efforts.
For full brand standards, visit Brand and Style.
USAGE
The UO logo and UO wordmark can be used together to form the university signature. The signature can appear as a positive mark or reversed out of colored blocks.
The university signature consists of three elements: the Oregon O, the rule, and the university wordmark. The university block signature consists of two blocks, one enclosing the "O" logo and the other the University of Oregon wordmark. Each of the individual elements maintains a special relationship to the others and must not be altered. Do not create your own artwork for the UO signature—get it by downloading from this site or contacting UO Marketing Communications directly. Creating variations or making changes to the UO signature is prohibited.
Block elements are based on x (width) and y (height) measurements. Additional elements (e.g., school wordmarks) should be contained in blocks that are multiples of X and Y.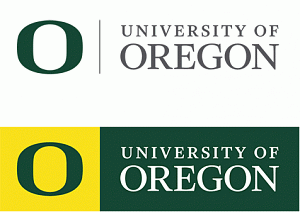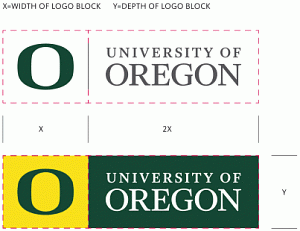 ---
It's important to ensure adequate space around the University signature and block signatures in order for them to work best in print and on the web. If you want your office or department to appear in the block system, see The Branding Bar System.
Horizontal University Signature and Block Signature Clearspace Requirements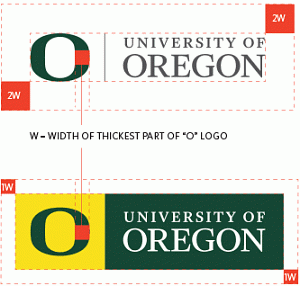 Horizontal University Signature and Brand Block Signature Minimum Sizes
The "O" should never appear smaller than 3/8" (.375") high. Exceptions may apply for extremely small applications (such as pens, small-space ads, or other). Call Marketing Communications ...

---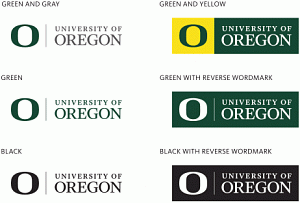 ---
1. Don't reassign colors to the signature

2. Don't create other one-color variations of the signature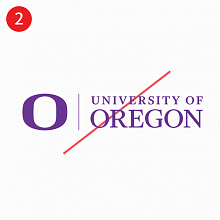 3. Don't apply the two-color signature to a dark background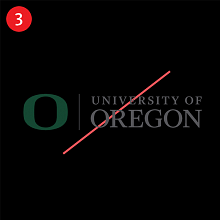 4. Don't sacrifice legibility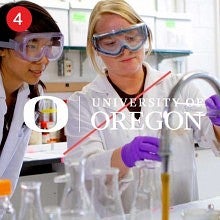 5. Don't fill any part of the signature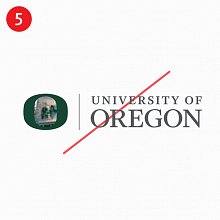 6. Don't use the signature as a decorative element

7. Don't obscure the logo with type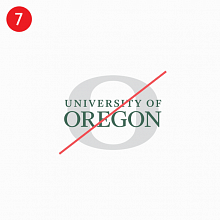 8. Don't move or resize signature pieces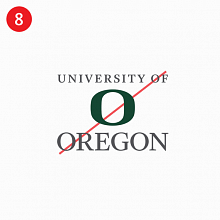 (other than as shown in the brand guidelines)
9. Don't apply graphic effects to the signature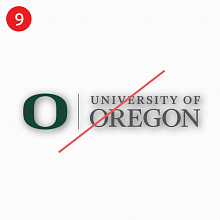 10. Don't use the O as a typographic element in a word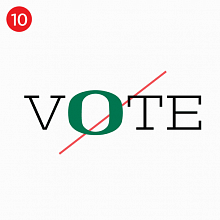 11. Don't use the logo to create other logos or shapes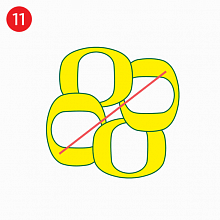 12. Don't use elements to create the O logo or signature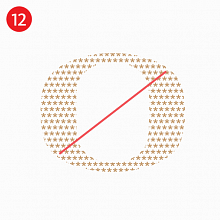 14. Don't create your own logo or signature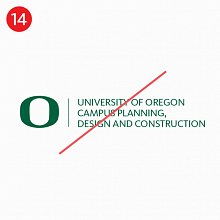 15. Don't add text, taglines, or graphic elements to the logo or signature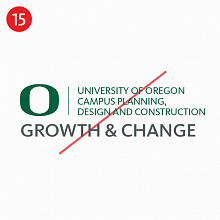 ---
The horizontal signature should be used as the primary signature. In cases where the horizontal signature doesn't work due to design or space considerations, the stacked signature is allowed. As with the horizontal signature, color, size, and clear space requirements apply (see below).
Stacked Signature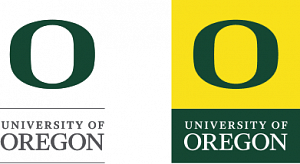 Clear Space Requirements for the Stacked Signature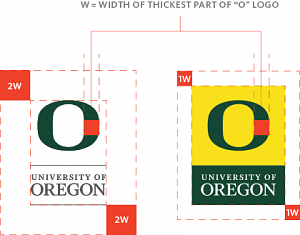 ---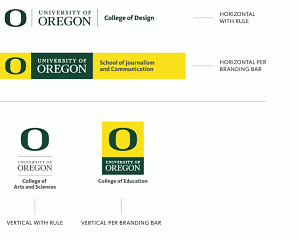 To access secondary signatures, go to our downloads page.
Existing secondary signatures:
College of Arts and Sciences
College of Design
College of Education
Graduate School
School of Journalism and Communication
School of Law
Lundquist College of Business
School of Music and Dance
Robert Donald Clark Honors College
University of Oregon Libraries
Office of International Affairs
Academic Extension
Division of Student Life
Jordan Schnitzer Museum of Art
Museum of Natural and Cultural History
Office of the Vice President for Equity and Inclusion
---
The signatures shown below are the approved configurations for all administrative and academic usage for the University of Oregon in Portland. It may also be used for approved signage, banners, and other stand-alone marketing efforts, to brand university schools, departments, and programs in Portland, and for administrative units at the University of Oregon in Portland.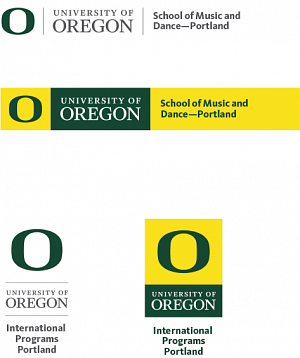 ---
These are marks designed for affiliated organizations at the University of Oregon.
University of Oregon Foundation
[In development]
University of Oregon Alumni Association


University of Oregon Athletics


---
Among the most basic elements of the Univerity of Oregon branding system are identity blocks, which can contain logos, wordmarks, names of schools and colleges, and unit identifiers. Intended to be flexible, these blocks can be organized in different ways within any space being designed. Block elements are based on x (width) and y (height) measurements. Additional elements, such as school wordmarks, should be contained in blocks that are multiples of x and y. All blocks should maintain this size relationship.
Elements of the signature can be used in separate spaces on the page. However, to maintain their connection, the logo (the "O") and wordmark ("University of Oregon") must both appear prominently.
No more than four elements should be used in a horizontal block construction (e.g., UO logo, UO wordmark, school wordmark, department name). No more than two elements should be stacked vertically.
We've provided some samples here, and you'll find more in our portfolio of examples. If you have questions about using the identity blocks or any other elements of the branding system, our designers are here to help. Contact Tim Jordan at 541-346-5280 or tjordan@uoregon.edu.
Example of Identity Block Grids