Most faculty and staff profiles for school and colleges websites managed by University Communications are created and edited using CAS Profiles.
To make changes to your profile, go to CAS Profiles and click the "Login" link in the upper left side under the "UO email user" Login link: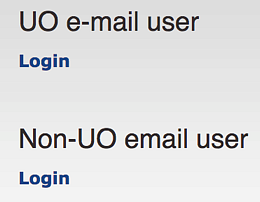 NOTE: A very select few users may be directed to use the "Non-UO email user" login link. All others will login using the "UO email user" link and can ignore the other one.
Once you click on the login link, it will take you to the Web Login Service screen where you will enter your DuckID and password then click the Login button. Your DuckID is the first part of your @uoregon.edu email address.
NOTE: If you have forgotten your DuckID (email) password, go to the DuckID service site and click on the "Forgotten Password" link to begin password recovery.

Once you have logged in, on the left-hand side of the page there will be a user account section, which should look something like this: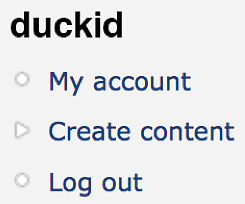 Click the "My account" link and you will be taken to your profile page.
The direct URL for your profile page will be https://casprofile.uoregon.edu + your DuckID (Example: https://casprofile.uoregon.edu/YourDuckID).
---