If you run into a problem, have questions about how something works, or have questions about functionality that is not covered, email webservices@uoregon.edu to ask for assistance.
---
A collapsible menu is a vertical list menu that collapses down to expandable menu titles when displayed on mobile devices. These are used almost exclusively in the footer and can be used in grids to make columns of collapsible menus. See how the lists for campus, resources, and related information in the three-column grid in the footer collapse into expandable headers on mobile devices.
---
To add a collapsible menu, you will need to click on the template icon and choose the option on the left labeled "Collapse Menu."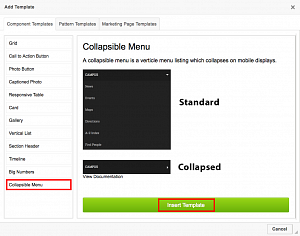 Click the Insert Template button at the bottom right and it will automatically insert a new collapsible menu.

Menu title will be the category that shows up in the mobile display. Menu items are what will be displayed when you click on the menu title in the mobile display.
---
To add collapsible menu items one at a time, click on the Green + button located in the top right corner of the grid box. This will add a collapsible menu item to the bottom of your collapsible menu after your last current collapsible menu item.

---
To remove one item from a collapsible menu, click the Red X button on that particular collapsible menu item and it will delete it from the collapsible menu.
---
To remove the entire collapsible menu, click on the Red X button at the upper right corner of the entire collapsible menu box and the entire collapsible menu will be deleted.