If you run into a problem, have questions about how something works, or have questions about functionality that is not covered, email webservices@uoregon.edu to ask for assistance.
---
Using article pages and tags, you can add dynamic content, such as news articles, announcements, etc., to automatic feeds.
The "Title" will be what appears in your automatic feed.

In the "Tags" section, enter the appropriate tag for the automatic feed you want your item to apper in (announcement, calendar, updates, etc.). You have to use the same tag everytime because it pulls directly from the wording of the tag.
If the event is tied to a date that appears in your automatic feed, in the "Important Date" section, enter the date of your event. If it is only one day, you can uncheck the "Show End Date" box. If it is for multiple days, enter the starting date and the ending date.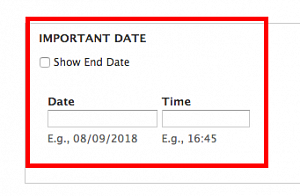 If your news feed contains a summary of the item, click on "Edit Summary" next to Body to expand the "Summary" box.
Add a small summary (1-3 short sentences) of the information that is on the page. That summary will only appear on the page listing all of the items in your automatic feed.