If you run into a problem, have questions about how something works, or have questions about functionality that is not covered, email webservices@uoregon.edu to ask for assistance.
---
A vertical list is a row of content with a photo on the left or the right of a headline, which can be linked to additional content on other webpage or websites.
To create a vertical list, you will need to click on the template icon and choose the option on the left labeled "Vertical List."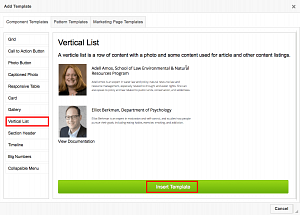 Click the Insert Template button at the bottom right and it will automatically insert a new list.

Highlight all of the existing "Listing Title" text and type in your new text. You can also make this a link to link to information on another page.

To add your photo, click on the yellow image icon in the bottom right corner of the image. That icon to bring up the media browser popup box that you see when you add new images and will function exactly the same, except you are replacing the existing placeholder image with a new one. Follow the same steps as adding a new image and the old image will be replaced by a new one.
---
To add additional listing items, click on the Green + button located in the top right corner of the content listing box.
---
To rearrange listing items, click on the cross icon with arrows and drag that listing item to the place you want it to be and unclick. That should move the listing item to the correct place and move all listing items down one place.

---
To remove a listing item, click the Red X button on that listing item and it will delete it from the list.

---
To remove the entire list, click on the Red X button at the upper right corner of the entire content listing box and the entire listing will be deleted.

---
There are two styles for lists—photo left and photo right. You can change which side of the title the photo is on by clicking on the bright pink paint palette icon in the upper left of the listing and selecting photo left or photo right.