The images in ResourceSpace are available to communications professionals on campus. If you are a UO communications professional who currently does not have access to ResourceSpace, you can request access by contacting University Communications at webservices@uoregon.edu.
ResourceSpace searches all image fields by when using the default search box on the homepage. Often times you will want to filter the results to narrow down the number of images show.  A lot of those filters can be done by using the Actions drop down filter that is located just above the rows of images: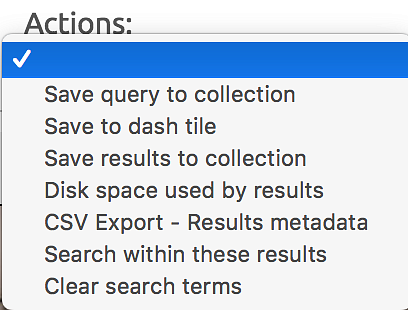 Search Tips
You can exclude words by using a - (minus sign) before a word, such as"duck -store" to filter out any image that is tagged or has the word "store" in the image description.
OR
When you use the Search within these results Actions option, you can also use the - option to filter out images.
NOTE: The "-" only works with just the basic searches and does not work with the more advanced Keywords: specific search that is noted in the search tips #3.

If you find that you have too many images in a search, you can narrow down your results by using the Actions option "Search within these results" to filter down the images:
NOTE: Using the "Search within these results" will automatically add search terms to the Simple search box. However, if you are using Advanced search options, do not click the Simple search box Search button, as it will almost always break your search and produce no results, even if you had results before using the same filtered search terms. If you forget, most of the time you can use your browser's back button to recover the search results.
 
You can limit the search to only Keywords and not descriptions by using "Keywords:" followed by the word you are using as your search terms.
NOTE: If you want to do a search for Keywords using multiple words in one search, such as "duck store" you will have to use the Advanced search options.
 
You can also use the above #3 option "Search within these results" Action and enter "Keywords:NEWKEYWORD" to add a new Keyword filter to any search.
 
To get a URL for a search, click on any image in your Search results and then click the "View all results" link. The URL bar of your browser will now show the Search URL and can save or bookmark the search.
 
Alternatively, you can also choose to bookmark your Search results into a Collection by using the "Save query to Collection" Action option.