If you need to create a Biography or other profile content section for your profile, you can do this by looking in the menu on the left while logged into the CASprofiles site. In the menu is a "Create content" link.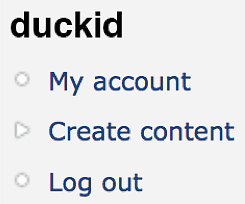 Click the "Create content" link and on the next page, click the "Profile section" link to create a new content item for your account.

Next, change the "Type" to Biography, or a different content type you need to create, and then you can edit your content as in the above descriptions.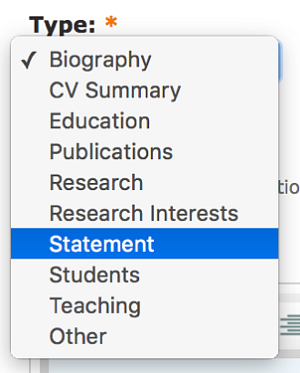 If you change your content type while editing, it will keep that new content type. So, if you accidentally create something with the wrong content type, you don't need to delete it. Just change the content type to the correct one and save your updates.
You may also need to change the "Weight" of the item, depending on if it is now out of order.
Add Images
Sometimes you may need to add an image to your profile content. There are two ways to add an image to your profile section:
Is with a a direct URL to the image in the Image Properties window:
Is by adding the image to your profile section under the File attachment section:
 

Once you've picked your file (sized for web first) click on the "Attach" button to upload the image and the file will show up:
 

From there you can use the URL under the image box to add the image to your content as shown in option 1.

NOTE: If you do not uncheck the box under the "List" option area your image will show up as the file name at the bottom of the profile section when the profile section is displayed on your site's profile page.
---