Mascot Mark
The Oregon Duck is one of the nation's most beloved mascots. We use our mascot and webfoot marks when we want to express pride in our UO community, let out our inner Duck, and have a little fun with our brand.
While they can add character to your design, they should never take the place of our primary logo or signature.
The mascot mark may only be used in the color variations shown below. Backgrounds shown are for illustration purposes only.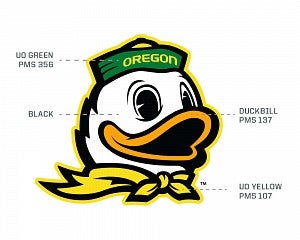 Do not alter the mascot mark, or use other versions, which are reserved for use exclusively by UO Athletics and on licensed merchandise. Accordingly, cartoon versions or caricatures of our mascot duck will not be approved. In addition, altering the Duck mascot mark to be doing things, holding or wearing things, is also not allowed. This is necessary to protect the integrity of the Duck image, prevent dilution of that image, and to avoid brand and style confusion. Where possible, use photos of the Duck instead.
Do not refer to The Duck as Puddles.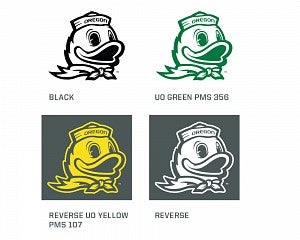 Webfoot Mark
The webfoot mark may be used in communication materials as a design element, but not in place of the primary logo or signature.
Recommended color variations and sample configurations are shown below. Do not alter the webfoot mark, or use any other versions.