Strategy
Every piece of social media content, from graphics to photos to 280 characters of copy, should be part of an overarching social media strategy that clearly defines why and how you are using social media to achieve the goals of your unit and support the mission and priorities of the University of Oregon.
Before Developing a Social Media Strategy
Before starting to develop your social media strategy, ensure you have clearly defined, collected, and reviewed the following information:
Institutional priorities
Strategic goals and priorities for your unit
Strategic communications plan for your unit
UO brand differentiators, standards, and guidelines
Having this information will help you build a successful social media strategy.
Developing a Social Media Strategy
1. Background and market research
Conducting background and market research as your first step in developing a social media strategy is critical to creating a focused and effective approach. Looking at what peers are doing across campus, at other institutions, and in other industries will help you clearly understand the market landscape, social media trends, your target audience, and the competitive landscape. Thorough research provides insights into what is working well and what practices are not effective. By proactively identifying challenges and opportunities, market research minimizes the risk of missteps, informs how you spend your time and resources, and enhances the likelihood of achieving desired outcomes. This research serves as the foundation upon which a successful and resonant social media strategy is built.
2. Establish purpose, goals, and metrics for evaluating success
Developing a purpose statement for your social media account(s) is essential as it provides a clear and concise outline of why you are using social media and what your account is intended to do for the organization. It guides your content creation and engagement efforts while helping to ensure consistency and alignment with the UO's mission, priorities, and brand standards.
In addition, defining specific, measurable, achievable, realistic, and time-sensitive (SMART) goals will help direct your social media efforts and help you develop content that is in alignment with the purpose of your account. See the resources section below for more information on creating SMART goals.
Once you have your purpose statement and goals, it's time to define how you will measure success. Identifying the most relevant metrics will help you evaluate your social media efforts and provide data to inform communications efforts in the future. Focusing on metrics like engagement rate, which includes likes, comments, and shares, provides insights into audience interaction and content resonance. Conversion metrics, such as click-through rates and conversion rates, gauge the effectiveness of turning social media engagement into tangible actions, like website visits or purchases. Additionally, tracking audience demographics and growth rates offers a broader understanding of the reach and appeal of your content, ensuring a holistic evaluation of your social media strategy's impact.
Keep in mind that the measure should not be your goal. For example, the goal of building brand affinity can be measured in likes and reposts, but getting a significant amount of likes and reposts is not the goal.
Remember to set regular intervals to evaluate your metrics for success to help inform your ongoing social media efforts.
3. Define your audience
Defining your audience is a pivotal aspect of a successful social media strategy, akin to inviting the right guests to your party. Whether you're aiming to engage prospective students, connect with English faculty members, or rekindle relationships with the class of '95, pinpointing these primary and even secondary audiences is the foundation upon which your content and interactions will be tailored. By listing and understanding your audience segments, you can shape your messaging, tone, and content to align with their interests and needs. However, it's not just about creating a Facebook page and waiting for engagement. Initiating outreach strategies specific to each audience segment is key—whether it's through targeted posts, direct interactions, or personalized campaigns. Remember, much like a party, you need to invite people and have a compelling plan to keep their interest alive, fostering a vibrant and lasting social media community.
4. Choose your platform(s) and define content production plan
Once you have defined your target audience, you can determine which platforms will allow you to reach them. Different platforms lend themselves to different audiences. You may not be able to reach the same people on Facebook as you would on Instagram. Consider which demographics are regular users of which platforms and which will best align with your target audience.
In addition to your target audience, the format of your content should also be considered when determining which platform(s) will best help you achieve your purpose and goals. Will your content primarily be text or will it be video? Evaluate the different kinds of content popular on the platforms and use that information to determine which platform(s) will be best for your account(s).
Once you have determined which platform(s) you will be using, develop your content plan which should include a content calendar, production schedule, and any additional themes or content formats for your social media content.
Refer to the Branding and Content section for more information on content production.
Example Purpose Statements
The following purpose statements capture the why and what behind the accounts used and managed by University Communications to represent the University of Oregon.
@UOregon
The @UOregon accounts focus on elevating the University of Oregon's local relevance, national competitiveness, and global recognition by aligning content with the priorities of the institution (e.g. R1 AAU Research University, Academics, Athletics, Student Success (current and alumni), Student Experience, etc.).
@CallMeADuck
The @CallMeADuck accounts focus on engaging current students and articulating what it means to be a Duck through the everyday experiences of our students. These accounts are the ultimate hype-person and community builder for our students and the broader community.
---
Practices and Guidelines
Minimum Requirements
These are the minimum requirements for a UO-affiliated social media account:
At least one dedicated professional staff, preferably two, who are responsible for the account (this does not include GEs and student employees). The employee(s) must have administrative privileges to all accounts and is responsible for controlling permissions and security to the accounts. Social media management should be included within their position description and/or daily job duties.

For Facebook and LinkedIn pages, staff will need to use their personal accounts to access the pages. This is a technicality of how the platforms operate. Do not use role accounts to manage these pages as the platforms can remove these accounts and possibly your access to the pages if no other user accounts have administrative permissions.

Develop and maintain a social media plan that articulates the purpose of your social media accounts, what kinds of content you publish, and how the account(s) support your department, program, or unit's strategic communication plan.
Clearly define how the account(s) support institutional goals and priorities and/or business objectives.
Maintain an ongoing content calendar with at least three posts a week.
Clearly identify your unit's relationship to the University of Oregon in the bio or about section.
Maintain strong security protocols. Use strong passwords that are not easy to guess and use a password manager if possible. Use multi-factor authentication when available. Update passwords quarterly. Use discretion in giving administrative permissions to students. Access for students should be tied closely to their responsibilities for supporting the account(s).
Make sure you are following relevant UO policies, including privacy policies, and the terms of service and conditions of the platform you are using, including Facebook, Twitter, Instagram, YouTube, Snapchat, and LinkedIn.
---
Policies and Laws
Political Activities
In general, university-affiliated social media accounts should not post about politics or political activity, make political commentary, or express the personal political views of university employees as this action may be construed as committing the university and/or Board of Trustees to a position on a public issue.
We generally cannot prevent non-university-affiliated social media accounts from tagging the university in their content related to political activities, but university-affiliated accounts should not share or engage with posts or accounts related to these topics.
See the UO Political Activities policy for more information.
Trademark and Licensing
All graphics, images, and branding used by university and university-affiliated social media accounts must follow university trademark licensing policies and agreements as well as UO brand standards (Our Brand, Visual Identity, and Marks and Logos sections). Accounts should only use logos and brand assets approved by University Communications.
University and university-affiliated accounts should only use materials copyrighted by external entities when the proper approvals have been granted prior to publishing on social media accounts. When including the logos or other brand assets of external entities staff should ensure the entity aligns with the mission, goals, and value of the institution. If you are unsure or have questions, please email the Marketing and Brand Strategy team.
See the UO Trademark Licensing Policy for more information.
In addition, when posting images and graphics to your accounts, please ensure you have the correct permissions to use the images or graphics and ensure you follow copyright laws as applicable. If you are unsure or have questions, please email the Marketing and Brand Strategy team.
Student Records and Personal Identifiable Information
As a general rule, social media content should not contain personal identifiable information such as email addresses, physical addresses, telephone numbers, UO identification numbers, and other information that directly identifies an individual (see the US Department of Labor's definition of personal identifiable information).
In addition, all social media content should comply with the UO Student Records policy, the federal Family Education Rights and Privacy Act (FERPA), and the Health Insurance Portability and Accountability Act of 1996 (HIPAA).
See the UO Student Records policy for more information.
University Health Services Notice of Privacy Practices
Advertising, Endorsements, and Sponsorship
University and university-affiliated social media accounts should refrain from any advertising, solicitation, or endorsements of third-party products and services as this is not permitted from, or on, university and university-affiliated social media accounts. If you have questions, please contact the University Communications social media team. See the Advertising page for more information.
NCAA regulations
University of Oregon employees and affiliates are required to follow NCAA regulations when managing and communicating on social media. Under no circumstance should an employee or account affiliated with the University of Oregon interact with prospective student-athletes.
Additional information is available on the UO Athletics Compliance webpage. Any questions should be directed to the University of Oregon Athletic Department's Office of Compliance.
---
Social Media Terms and Conditions
The University of Oregon requires that you follow the terms of service and conditions of your chosen platform. Learn about the terms and conditions of the major social media platforms at the links below.
Resources
Brand Library
The Brand Library is the primary repository for brand assets and materials. The University Communications social media team maintains a number of resources in the library to support social media strategy development.
External
Questions?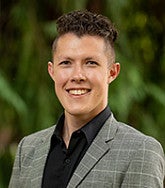 Jesse Summers
Director of Social Media and Brand Strategy
summers5@uoregon.edu
541-346-0402